The all new iphone13 and iphone13 mini will be available in three storage variant from 23 September . Initial price of iphone13 mini will be 69,900 rs and 256 gb edition from 79,900 rs while 512 gb worth 99,900 rs.
Things to be noted about iphone 13 series
*Apple has been launched 4 iphone models
*initial price in India will be 69,900 rs
*Fastest processor ever
*Prolonged battery life
*Best camera  set up with cinematic mode
Apple has been announced release of iphone13 and iphone13 pro series in its virtual event on Tuesday . New apple series was predicted to be launched in 4 models as iphone12' s line up including iphone13mini , iphone13, iphone13pro and iphone13pro max
These four models had a more thickness and decreased notch size giving a better resolution as compared to previous models but screen size will remain unchanged. Better camera quality can be experienced in new iphone with longer battery backup
Company introduced new technology of cinematic video recording mode making it perfect for professional photography shots. All latest iphones are based on A15 bionic chip with ios15 processor making it much faster ever.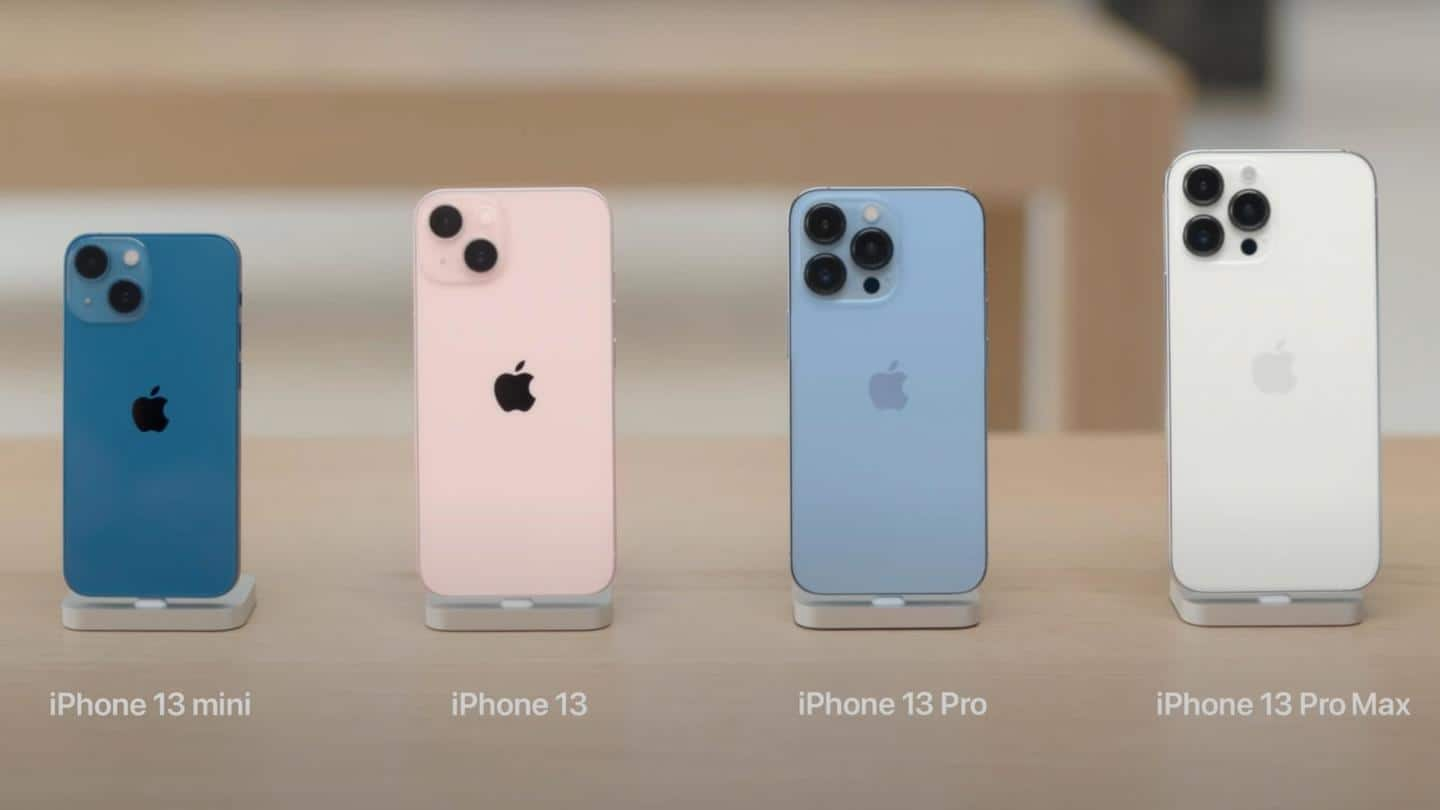 iphone13 and iphone13 mini will be available in three storage variant. iphone13 mini 128gb price in india will be 69,900 rs while 256 gb and 512 gb to be sold at 79,900 rs & 99,900 rupees
iphone13 pro and iphone13 pro max will be available upto great space of 1 tb. Assumed price of iphone13pro 's 128 gb ,256gb ,512 gb are 1,19,900 rs , 1,29,900 rs and 1,49,000 rs respectively
WHEN WILL BE NEW APPLE MOBILES AVAILABLE IN MARKET?
The online pre booking has been commenced on 17 September while it assumed to be sold on retail stores from 24 September onwards
WHY SHOULD YOU UPGRADE YOUR PHONE WITH IPHONE 13 SERIES?
*FASTEST PROCESSOR – iPHONE 13
All new four iphone model have A15 bionic chip set in them making it 50 times faster than leading competitors. iphone13 and iphone 13 mini have four core GPU with A15 bionic moreover 5core GPU is installed in pro series
*Prolonged battery life – iphone 13
Apply is promising more longer battery backup of 1.5 hrs as compared to previous models ,similarly additional backup of 2.5 hours expected from 13pro and 13pro max
*MASSIVE STORAGE LEVEL – iphone 13
Iphone13 will be a first non pro iphone to have storage capacity of more than 256 gb while iphone13 pro and iphone13pro max will be first iphone with 1tb space
*SCREEN AND DISPLAY – iphone 13
These four models have same size as that of iphone 12 series except notch size which reduced to 20 percent
Iphone 13 mini come with size of 5.4 inches and iphone13 with 6. 1 inches with enhanced display to work best in low brightness level
Apple 's pro motion 120 hz refresh rate will be only feature in pro & pro max which can scaled from 10hz to 120hz with 1000 nits brightness level and 1200 nit HDR level . they are also supporting advance features like dolby vision, HDR10 and HLG
 *SAFER THAN BEFORE – iphone 13
New IPHONE13 had IP68 rating of water and dust resistance
*COLOR OPTION – iphone 13
They will be provided in five different shades pink ,Blue,midnight,starlight and red
Company has been recycled water bottles for anteena line design
Both pro model releaed with 4 Color options graphite, gold, silver & cera blue
*CAMERA – iphone 13
The new wide angle camera with special feature of capturing 47 percent additional light for low noise and bright shots . It had 1.7 um sensor PIXEL and F/1.6 aperture with
Sensor shift optical stabilization – iphone 13
Company is also assuring fast working of night camera setup with ultra wide camera of 12 Mp and aperture of f/2.4 for capturing sharp shots
A new cinematic video recording mode is introduced which is supporting rack focus which used for autofocusing on moving subject and background
3X OPTICAL ZOOM
77nm TELEPHOTO CAMERA
ULTRAWIDE CAMERA FOR MACRO SHOTS
BETTER CONNECTIVITY New iphone series cutom design is updated with anteena and radio components for better acess to superfast 5G.